Event title: PARSEME 2nd Training School
Location: Pôle communication, multimédia et réseaux, University of La Rochelle, 44, avenue Albert Einstein, 17000 La Rochelle, France (google map)
Dates: 27 June - 1 July 2016 (Monday-Friday)
Hosting Institution: Laboratoire Informatique, Image et Interaction (L3i), University of La Rochelle and Laboratoire d'informatique Gaspard Monge, Université Paris Est Marne-la-Vallée
Local Organizers: Antoine Doucet, Matthieu Constant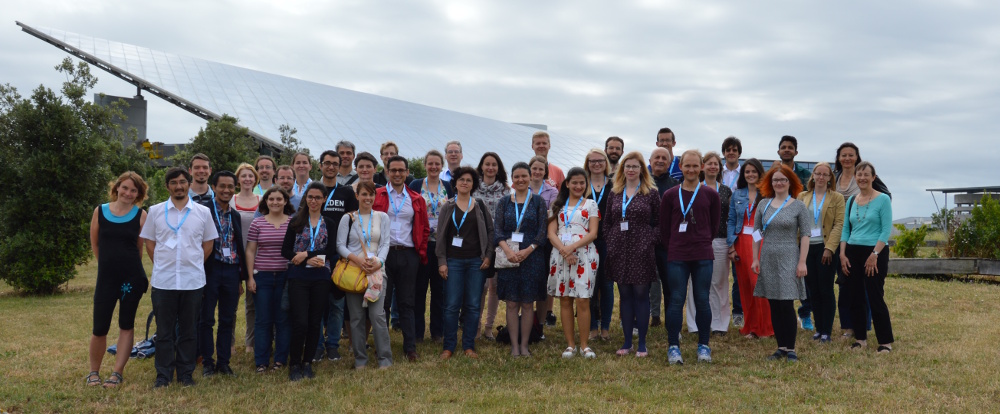 See more photos by Matƒ´ss (1 and 2), by Maria, and by Agata.
Slides and handouts from the courses and group projects:
New! Video recordings from the MT&MWE course and from group project presentations.
Program:

Registration: All interested trainees should fill in the registration form until 7 March 2016.
If the number of the registered candidates is higher than the capacity of the Training School, the PARSEME Steering Committee will select those who will be invited to participate (young researchers and PARSEME members have priority). Most of them will also be entitled to reimbursement of their travel and stay (provided that they are affiliated in one of the PARSEME member countries).
Additional sponsoring: We are proud to announce that the school will be supported by the Region Aquitaine Limousin Poitou-Charentes, and the University of La Rochelle:
Verbal phraseology: from a valency dictionary to a parser

Lecturers

: Adam Przepiórkowski and Agnieszka Patejuk, Polish Academy of Sciences and University of Warsaw, Poland

Contents

:

The comprehensive valency dictionary for Polish, Walenty, and its subformalism for representing phraseological expressions; all introduced on the basis of examples (from very simple to relatively complex, and then some illustrating the limitations of the formalism).
Basics of LFG and the XLE platform for parsing LFG; preliminaries of the automatic conversion of phraseological information from the valency dictionary to the LFG/XLE grammar of Polish.
More on the conversion, showing how this works in practice, parsing sentences with phraseological expressions; using INESS (covered in a separate course) to inspect parses.

Studying MWE annotations in treebanks with INESS Search


Lecturers

: Victoria Rosén and Koenraad De Smedt, University of Bergen, Norway

Level

: This course will be targeted at linguists with or without computational background

Objectives

: After taking this course, participants will be able to search for a range of annotation types in various types of treebanks, including all Universal Dependency treebanks, and to create frequency tables for query results.

Form of instruction

: Lectures will be accompanied by practical exercises; all treebank operations will be online, without the need to download anything

Contents

:

Knowing what you are searching for
Annotation types in treebanks
Query language, simplified syntax and regular expressions
Searching in several treebanks simultaneously
Creating frequency tables

Introduction to machine translation with a focus on MWEs

Lecturers

: Jörg Tiedemann (University of Helsinki, Finland) and Fabienne Cap (Uppsala University)

Prerequisites

: The course is intended for students and researchers with various backgrounds but a common interest in application-oriented natural language processing and data-driven language technology. We do not require any prior knowledge of machine translation approaches but assume some basic understanding of probability theory and statistical inference. Some experience with Unix-based operating systems and GNU/Unix tools or scripting languages will be necessary for the lab session (but the lab session can be optional).

Objectives

: In the course, we will introduce the main principles of statistical machine translation. Participants will get an overview of common SMT models including an introduction of techniques and tools that are common in training and applying them in real-world applications. We will discuss challenges in modelling translation especially in connection with multi-word units and non-compositional expressions. We will also look at other possibilities to use MT technology in NLP such as the use of word alignment and parallel corpora for the discovery of idiomatic expressions. During the lab session, participants will gain skills in using basic tools for training and applying SMT models.

Contents

: The course will comprise 3 lectures and 1 lab session:

Foundations of SMT
In this lecture, we motivate the use of statistical models in machine translation and explain the foundations of common approaches including word-based models and alignment, phrase-based SMT and hierarchical models.
Translation as Decoding
Translating with statistical MT models is defined by a search problem called decoding. This lecture presents the iterative beam search decoder in phrase-based models and contrasts this approach to decoding with synchronous grammars and local-search strategies in discourse-level SMT.
Multi-Word Expressions and Machine Translation
In this lecture we discuss challenges in MT related to multi-word expressions and idioms. We present extensions of standard models to handle MWEs and we will also discuss the use of MT techniques to discover idiomatic expressions.
Lab Session
The lab session will give hands-on experience with SMT tools for given toy examples. The expected outcome of this lab is to gain skills that can be used to train and use real-world models and to obtain some understanding of various options and practical challenges.
Except for regular courses, the school will feature sessions with an active participation of the trainees:
posters presenting the trainees' MWE-related research work, preceded by poster boosters
group work sessions on challenging MWE-related issues, followed by plenary presentations of the results
Important dates:
7 March 2016 - [TRAINEES] expression of interest
25 March - [STEERING COMMITTEE] notification about the participants selected for invitation and for funding
27 April - [TRAINEES] submission of

a manuscript summarizing the personal MWE-related research work (in English, 2-5 pages, contents: scientific challenge, theoretical framework, method, types of data, hypotheses to be tested, preliminary results)
short statement describing a challenging MWE-related issue to be discussed during group work sessions

2 10 June - [ORGANIZERS] dividing trainees into groups, sending out reading assignments
2 10-27 June - [TRAINEES] reading assignments (all trainees read the manuscripts of other members of their groups; some readings related to the courses might be recommended)
20 June - [TRAINEES] submission of poster booster slides (to parseme_at_nlp_dot_ipipan_dot_waw_dot_pl)
27 June - 1 July 2016: [ALL] Training School
Reimbursement: Trainees: If you have been selected as entitled for reimbursement, you will receive a formal invitation via email (from noreply_at_cost_dot_eu). You should accept the invitation before travelling to La Rochelle. You will get a trainee grant that will cover travel, accommodation and meal expenses but you have to arrange your travel and stay yourself and cover any costs incurred. You will be reimbursed after the training school.
Trainers should fill in the reimbursement form that will be available online via the e-COST system after the training school and submit electronically all relevant documents, as indicated in the reimbursement form.
---
Excursion: On Thursday, we will take a half-day trip to the Aix Island, by way of Fort Boyard. We will travel with inter-îles, leaving the school shortly after lunch, to make way to the boat. The boat will leave at 14 (strictly no admission on board after 13:45), and return to the main harbour at 18:45.
---
Accommodation: there are numerous options in La Rochelle, with a wide range of prices. We hereby only propose a selection of hotels close to the training school's location. Other options are available through hotel booking engines (booking.com, hotels.com, etc.) or airbnb.
Recommended accomodation very near the training school's premises follows (a 10 minutes' walk from the old harbour). Première Classe and Kyriad are adjacent 2- and 3-star hotels, under the same management, with prices negotiated below the daily grants of traineers and trainers, respectively:
Youth hostel La Rochelle

: shared rooms (from 16.50€), private ensuite (36€), including breakfast. Limited availability: please book ASAP! If the hostel appears to be booked out online, there may still be vacancies, do not hesitate to call (+33 5 46 44 43 11) or email (

This email address is being protected from spambots. You need JavaScript enabled to view it.

).
Hotel Première Classe La Rochelle Minimes (opened 2013): double rooms at the negotiated price of 54€ per night, including one breakfast. The rooms are pre-reserved until 6 May. Please book by email at

This email address is being protected from spambots. You need JavaScript enabled to view it.

and quote "PARSEME", additionally giving your full name and the booking dates.

Kyriad Hotel les Minimes (opened 2013): double rooms at the negotiated price of 88.90€ per night, including one breakfast. The rooms are pre-reserved until 6 May. Please book by email at

This email address is being protected from spambots. You need JavaScript enabled to view it.

and quote "PARSEME", additionally giving your full name and the booking dates.
Altica Hotel: double rooms, including taxes and breakfast at the negotiated price of 65€ per night (we have pre-reserved rooms with that deal until 9 May, please quote "PARSEME" when booking at +33 5 46 43 29 09 or

This email address is being protected from spambots. You need JavaScript enabled to view it.

).
We also have a special price and some pre-reserved rooms at an upper-ranged hotel near the old harbour:
Hotel Saint Nicolas: 111.65€ per night, taxes and breakfast included (we have pre-reserved rooms with that deal until 15 May, please quote "PARSEME" when booking by phone at +33 5 46 41 71 55, or by email at

This email address is being protected from spambots. You need JavaScript enabled to view it.

).
---
Travel: La Rochelle can be reached in several ways:
By plane from Lyon, London, Paris-Orly, Porto...: http://www.larochelle.aeroport.fr/en/
By train: http://en.voyages-sncf.com/en/
By plane (International airport of La Rochelle-Ré):
The airport has daily connections the French hub of Lyon, hence making it simple to reach La Rochelle with a connecting flights from numerous European cities. In addition, direct flights are provided on a non-daily basis by Ryanair and Easyjet, towards Birmingham, Bristol, Brussels (Charleroi), Dublin, East Midlands, Edinburgh, Geneva, Leeds, London Gatwick, London Stansted, Manchester, Paris, Porto, Southampton. Please refer to booking sites for updated multiple leg connections, for instance www.skyscanner.com or www.edreams.com
From the airport, you can reach the conference venue by taxi or by Yelo bus (with line number 7 until place de Verdun and then bus number 3 until the Technoforum bus stop, 1.30€ for 1 ticket, 11€ for a 10-trip ticket).
By plane (other airports):
Traveling to La Rochelle can also be achieved by flying to one of the larger nearby airports of Paris CDG, Paris Orly, Bordeaux or Nantes.
If you're not flying to La Rochelle, we would generally recommend that you fly either to Paris CDG, from which you can take a train to La Rochelle without going through Paris, or that you fly to Bordeaux airport which is generally better connected than Nantes airport.
By train:
Train tickets can be booked on the French train company's website. Please note that the sooner you book, the cheaper. However, be careful with exchange and refund conditions.
Paris CDG airport – La Rochelle: about 4 hours
Paris center (Montparnasse station) - La Rochelle: about 3 hours
Bordeaux – La Rochelle: about 2 hours
Nantes – La Rochelle: about 2 hours
Walking from the train station to the conference center takes 10 minutes. Alternatively, you can take a taxi, or Yelo bus number 3 towards the stop "Technoforum", which lies by the conference venue and 3 of the selected hotels (Altica, Première classe, Kyriad).
By bus:
France has recently allowed long-distance bus services. There are several bus lines, far cheaper than trains, between La Rochelle, Nantes and Bordeaux. They often depart and arrive to and from train stations, which makes travelling by bus no more complicated than by train. You may get schedules and prices online, for instance on comparabus or busradar.

By car , follow signs to "Les Minimes".
The conference venue (University) is located between the SNCF railway station and the harbor of Les Minimes: 44, avenue Albert Einstein 17000 La Rochelle, France.